Daniel LaRusso


Vital statistics
Title
Daniel LaRusso
Gender
Male
Race
{{{race}}}
Faction
{{{faction}}}
Health
{{{health}}}
Level
{{{level}}}
Status
Lucille LaRusso (Mother)

Ali Mills (ex girlfriend)

Kumiko (ex girlfriend)

Location
{{{location}}}
Biography
Edit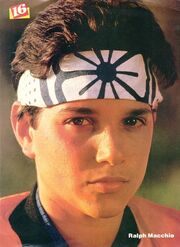 Daniel LaRusso (
Ralph Macchio
) is the main character of
The Karate Kid
film series, with the exception of the fourth installment,
The Next Karate Kid
. Like Rocky Balboa, he is depicted as an "underdog" and throughout the series must overcome many adverse situations. Daniel is depicted as an Italian-American from New Jersey and is likely around the ages of 17-18 in the films. His sensei and closest friend is Keisuke Miyagi, the handyman at the South Seas apartment complex. Through Karate, Daniel not only learns how to defend himself, but many lessons about life as well.
The Karate Kid
Edit
Daniel moves to California, learns karate and kicks ass.
As Daniel and Mr. Miyagi are leaving the All Valley Tournament they overhear John Kreese berating Johnny for not winning first place . When Kreese starts to mercilessly strangle Johnny, Mr. Miyagi intervenes and eventually saves him. Six months later, Daniel angrily comes to Mr. Miyagi's house with his car steaming stating that Ali did something to the car. He also tells him that Ali has fallen in love with a football player as well. He eventually goes to Okinawa with Mr. Miyagi. He befriends a girl named Kumiko who's now his new girlfriend. Daniel becomes enemies with Chozen who is Sato's(Mr. Miyagi's enemy) nephew. Mr. Miyagi's relationship with Sato is fixed when Miyagi saves him. He disowns Chozen because he didn't help save other people. As Kumiko is performing a dance Chozen who is still angry takes her hostage. Daniel fights to death and wins. watch da movie it great...