Home
Talk

2
20pages on
this wiki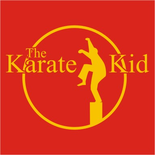 The Karate Kid is all about a teenage boy named Daniel LaRusso traveling with his mother to California, but bad things happen along the way because Daniel falls in love with a bully's girlfriend. And one day later, he meets a handyman, Mr. Miyagi, who promises to teach him karate so the bully won't beat him until the championship karate games.
The Karate Kid Summary
Edit
The Karate Kid is about a young boy, Dre Parker, who is travelling with his mother to Beijing, from Detroit to China, after his mother has been relocated at her job. Once he arrived at his new home, he is greeted by his neighbor, Harry, who invites him to play with him at the park. Harry and Dre play basketball with some other kids at the park, and Dre catches the eye of a chinese girl named Mei Ying, who is practicing her violin to be accepted into a prestigious school. However, before Dre can get to know Mei Ying, he is beaten severely by Cheng. This continues for most of the movie, with Dre becoming scared of the bullies, even going too far as to hide from the Fighting Dragons. Han, the apartment's maintenance man, begins to train Dre kung fu and Dre goes on to compete in a tournament to restore his honor.
Latest activity
Edit